Triangle - Astérides, contemporary art center
Triangle - Astérides is a 26 year old non-profit contemporary visual art organization based in "La Friche la Belle de Mai", a former tobacco factory in the center of Marseille, where it supports artists and serves diverse and expanding audiences.
Providing spaces for artistic creation and exhibitions, the organization's stated mission is to be a catalyst for a broad dialogue between living artists and the public. Triangle - Astérides develops a yearly program of exhibitions, public events, and new commissions, as well as highly respected residencies and studio programs dedicated to Marseille-based, French, and international artists; supporting artistic research, experimentation and production. Since its founding in 1994, it has established itself as one of France's most innovative organizations supporting French and international artists who have not yet had wide public exposure or critical acceptance from a broader public. It supports emerging artists, as well as artists that are underrepresented in France by establishing long-term relationships with them to collaborate in the development, production and presentation of significant new projects. In 26 years, the organization has hosted more than 600 artists in residence and produced more than 130 exhibitions, with a focus on equal representation, open debate, and multiple viewpoints regardless of race, gender, class, or creed. It has helped launch the careers of many artists who have gone on to worldwide prominence. Rooted in its local context, Triangle - Astérides is a place of assertion of cultural rights, where audiences are appreciated for the singularity of their relation to art. As an active member of Triangle Network; an international network of over 90 arts organizations in 41 countries, it also underlines the positive value of transnational dialog, which constitutes the DNA of its project.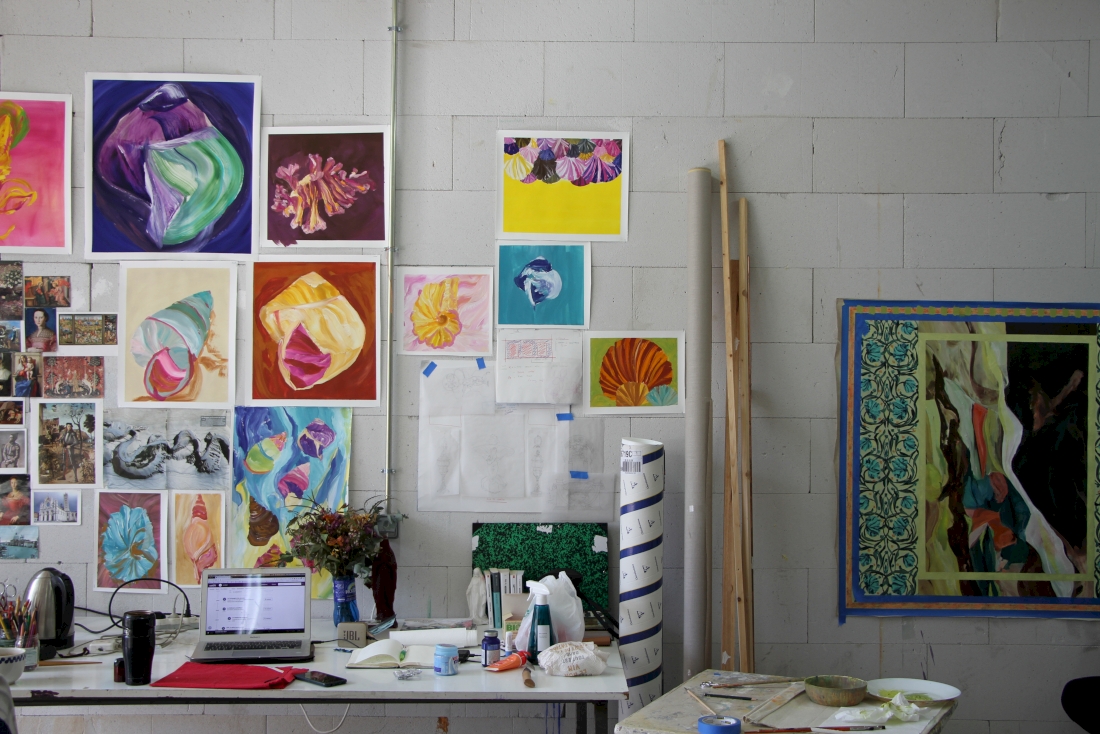 Photo : Studio of Melissa Sinapan, artist in residency jan-april 2021, Triangle - Astérides
available means
— An individual 60 sqm studio space.
— An individual room in a 90 sqm apartment (common areas with other residents: living room, kitchen, bathroom ; Wifi).
— 1 000 euros artist fee. Prior to the residency, Triangle - Astérides is available to assist the selected artists in their additional fundraising endeavours.
— Administrative, logistical and curatorial assistance.
— Studio visits with professionals are organised by Triangle - Astérides during the residency.
duration
3 sessions of 14 weeks each year.
selection process
Annual open call for applications (March-April). Artists are selected by a selection committee, renewed each year, composed by French and international curators and artists, and members of Triangle - Astérides' team.
obligations of the residents
None.
Actions towards audiences
Each residency ends with a open studio.
Exhibitions can also be organised sometimes.
Artists in residency can develop artistic projects with specific groups in collaboration with the person in charge of audience development.
Contact
Triangle - Astérides, contemporary art center
Friche Belle de Mai
41 rue Jobin
F-13003 Marseille
T: +33(0)4 95 04 96 11
contact@trianglefrance.org
www.trianglefrance.org