Le Wonder/Fortin is an artist-run-space, a place managed by and for artists. Our collective occupies large disused complexes in the Parisian suburbs.
Le Wonder/Fortin is an artist-run-space, a place managed by and for artists. Our collective occupies large disused complexes in the Parisian suburbs: after the factory of a late battery brand named Wonder (which gave the name of our collective) in Saint-Ouen (93) from 2013 to 2016, the Liebert tower in Bagnolet (93) from 2016 to 2019, the Zénith building in Nanterre (92) in 2019 and 2020, the collective is now located in the former printing house Le Fortin / LeProgrès, a three-floor 3000 sq. meter building in Clichy (92).
Le Wonder/Fortin's main goal is to exist as an independent tool for the young French and international artistic scene to both produce and show their art.
Plurality is the core of our project. Today, we host 60 permanent artists and offer 5 research and creation residencies to French and international artists. On site, research and creation intersect and exchange. Being together, artists influence one another, evolve, and enrich each other. They often give rise to unexpected collaborations. This collective and cooperative experience informs new ways to co-create and share.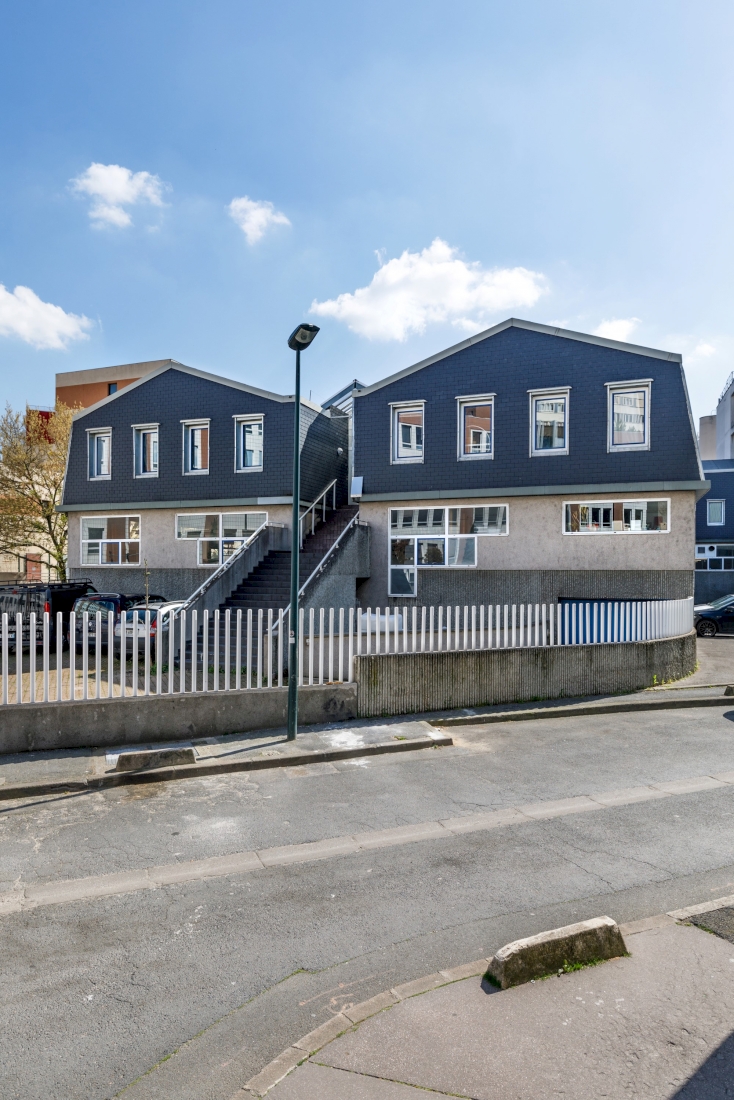 Photo : Salim Santa Lucia

The research and creation residency offered by Le Wonder does not have to be focused on the production of a specific project. Research and experimentation are encouraged, whether theoretical or formal.
The resident can propose to present the outcome of his/her time at Le Wonder/Fortin in the form of a studio visit, conference, workshop, screening, banquet or piracy of the FM band.
available means
— Access to all of the workshops and equipment of the building
— An individual bedroom with access to commons
— Peer-support from an individual artist from the collective, whom you can refer to
— Access to emerging artistic scene in Paris, according to the project
— a 850 euros residency grant. This is inclusive of the artist's fees, travel expenses to go to/from Le Wonder/Fortin in Clichy and possible production costs if necessary.
— Accommodation is provided free of charge by Wonder during the period of residence.
— a pool of shared tools and machines, as well as workspaces divided into several sections. These different sections are each coordinated by a permanent resident artist
Wood department
Available equipment includes an edger, a planer, a router, paneler (capacity 600 × 280 cm), a band saw, a column drill, a miter saw, and power tools...
Metal department
Available equipment includes a metal chainsaw, a MIG and TIG arc welding station, a bender, a small metal oven (capacity 1200°), an artisanal foundry, a flat iron folder, a sheet metal folder, a rolling machine, a guillotine, a column drill, a metal lathe, a lapidary, a compressor, a sandblaster and its cabin, and all the power tools.
Image and publishing department
Available spaces suited for painting, luminous and quite. Equipment includes screen-printing tools, two risography printers, a letterpress, drying rack, digital plotter, lithography machine, cutting table, large paper storage units, electric paper-cutter, B&W copier…
Resin department
Well-ventilated space suitable for working with polymers, plasters and cements.
Ceramic department
Available equipment includes a ceramic oven, a lathe and storage spaces.
Textile department
Available equipment includes an industrial flat stitching machine, an oversewing machine, an Overlock sewing machine (family machine), a stitching machine, large cutting table and a steamer with an ironing board.
Cinéma
Available equipment includes 1080p HD projectors (3000 and 6000 lumens), a 42 inch screen and an editing room.
Research center
Quiet area with library and study area...
Radio
Complete radio studio and outdoor recording equipment.
Open kitchen
Available equipment includes a large, fully-equipped kitchen space allowing meal preparation for several dozen people, as well as artisanal and experimental equipment (smoking room, dryer, fryer, barbecue, etc.)
Multi-purpose exhibition space
Larger, empty space for large-scale projects or shooting.
There are also two music studios, a tattoo studio, a jewelry workshop, storage space. It is possible for these spaces to be used, according to the availability of the coordinator of the desired space.
Duration
The artist will be received as a guest over a one month period.
selection process
The application must include :
— CV
— a short note of intention presenting the motivations for the residency, as well as the spaces the artist would like to access.
— a portfolio including a presentation of the artistic approach as well as visuals of already carried out work (max 10 MB)
The call for applications is open to all artists, regardless of age or nationality. All areas of artistic expression are accepted. The selection of the applications is made by Le Wonder's Board of directors (founding members, inhabitants and departments' coordinators).
obligations of the residents
The artist must provide their own small equipment (except bulky machines) and be autonomous in their practice.
The artist must respect the regulations and values of the artist-run-space.
At the start of the residency, the artist must share a time to present his/her work to the members of the organization.
Contact
Le Wonder / Fortin
33 Rue Médéric
F - 92110, Clichy
lesatelierswonder@gmail.com
http://lewonder.com