Perched high above Kyoto, Villa Kujoyama is a pluridisciplinary arts residency which, since 1992, welcomes established and emerging artists seeking to work on a project in connection with Japan. The present-day Villa Kujoyama builds on the first Franco-Japanese cultural centre, which opened in 1924.
The decision to rehabilitate and transform this initial venture into a place for artistic research originated in a shared wish to promote intercultural dialogue through artistic and intellectual exchanges – and contemporary creation.        
Since its founding, close to 400 artists have spent time at Villa Kujoyama and helped forge its reputation as a force for intercultural cooperation and Franco-Japanese creation.
Throughout their residency at Villa Kujoyama, successful applicants in various fields, from traditional hand-crafts to digital creation, not forgetting the visual and performing arts, receive guidance from a designated on-site team, and are invited to engage with artistic, cultural, academic and business environments in Japan.
Each year, thanks to three distinct programmes – solo, duo or in tandem with a Japanese artist – some twenty French practitioners, or resident in France for at least five years, benefit from a unique environment and the many resources at their disposal to conduct research, with no obligation to produce a work at the end of the residency.
On a regular basis, Villa Kujoyama stages actions and projects both within and beyond its walls. Thanks to its own, it builds on lasting and innovative partnerships, connecting individuals, institutions and artists-in-residence for each project it accompanies. It offers artists a continued presence on the international art scene through exhibitions, talks, performances, and other innovative and connected forms, both during and after their residency, in France, in Japan and throughout the world.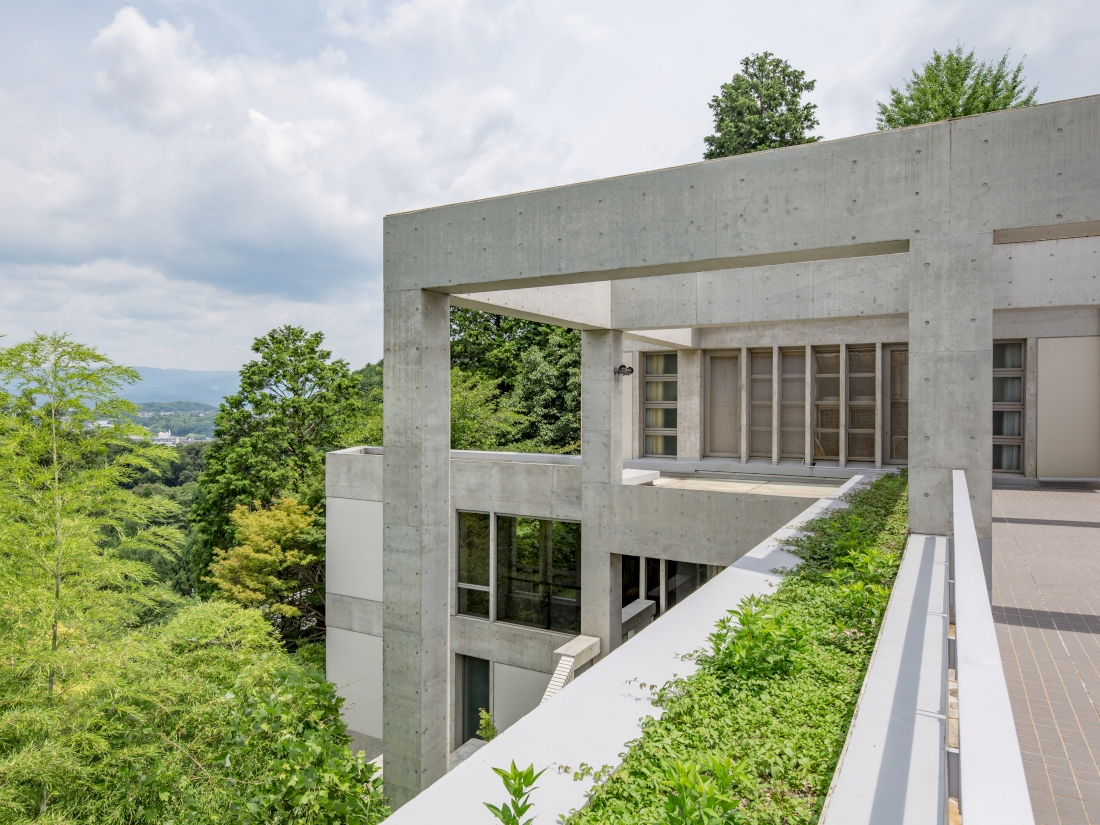 Photo : Kenryou Gu
available means
A monthly amount shall be allocated to Villa Kujoyama residents as follows:
Solo: The resident shall receive a monthly allowance of 2 100 Euros for their stay.
Team: Both residents shall receive a monthly allowance of 1 600 Euros for their stay.
Duo: Both residents shall each receive a monthly allowance of 1 600 Euros for their stay.
Villa Kujoyama can provide six studio-apartments, a duplex of a surface area of 64 square meters (690 square feet), each with a kitchen, bathroom and two single beds. Each resident shall be entitled to a studio-apartment, dedicated to their artistic research.
A working studio in the garden of Villa Kujoyama, full equipped can be used to realize production work outside the studio-apartment.
An auditorium with hardwood floors and audiovisual equipment (5m x 2.8m screen, video projector, Mac computer, microphones, loudspeakers) and a tuned piano. This room, measuring 90 square meters (970 square feet), is suitable for dance, theater, music, cinematographic screenings and conferences.
Pierre Bergé Hall is provided to enable residents to welcome outside visitors.
A reading room equipped with a library comprised of works by residents since 1992, a laser printer scanner, A3 inkjet printer and dual scan LED.
The Institut Français shall pay for a round trip ticket (France-Osaka) for a maximum amount of 1,400 Euros for residents in the Solo or Team program. Within the scope of the Duo program, the Japanese resident shall not benefit from the handling of transport to Villa Kujoyama.
Duration
The residency stay could be realized within the same year, from january to December. In no case can the stays be fractioned or carried over to the following year.
The residency period shall be for a period of 2 to 6 months depending on the following program category:
Solo: 3 to 6 months
Team: 2 to 3 months
Duo: 2 to 3 months
selection process
The selection process is carried out in several stages:
- An Expert Committee examines all the applications, preselects and auditions the applicants.
- A Final Selection Committee rules on all applications and appoints the residents. Its decisions cannot be contested.
In addition to an assessment of the applicant's professional path, special attention will be paid to:
- The quality and finality of the project
- The need for a research residency in Japan
- The work protocol envisaged
- The contacts already identified, established on location
No age limit is required. Mastering the French language is not a selection requirement for the Japanese applicant. However, the applicant must be able to speak English, when necessary.
The hosting conditions at the Villa Kujoyama do not enable more than two people to be admitted per project. Groups, artist groups, companies, troupes exceeding this number shall not be included in this program.
No person not included in the project shall be entitled to stay there. Residents wishing to welcome those close to them must find accommodation outside Villa Kujoyama.
obligations of the residents
The laureate will be free from any professional activity during the entire period of its stay.
Actions toward the publics
On a regular basis, Villa Kujoyama stages actions and projects both within (open studios, encounters, dedicated projects) and beyond its walls with a rich events calendar and associated proposals according to its network, in Japan, France and worldwide.
Contact
Villa Kujoyama
17-22 Hinookaebisudanicho
Yamashina Ward
JP- Kyoto, 607-8492
+81 (0)75 761 7940
villakujoyama.jp