Association founded in 1999, promotes visual arts and contemporary dance in the Normandy region.
'2angles', an association founded in 1999, promotes visual arts and contemporary dance in the region. In 2010, 2angles joined the network of cultural centres supported by the Normandy region.
One of its main missions is to receive artists and dance companies through its residencies
programme.These residencies result in exhibitions of the work of visual artists and public presentations of the work-in-progress where dance companies are concerned.
The activities of '2angles' mostly take place in the town centre of Flers. Located in what was once a dye factory, the association disposes of 400m2 in which to house its three exhibition spaces, workshops, offices and a library.
In addition, '2angles' has access to a stage and a rehearsal studio which are made available by the town of Flers. '2angles' is the place to be if you are interested in discovering, creating, experimenting,
researching and sharing. It creates bridges between visual arts and dance, the artists, the public, and local enterprise.
The association named 'Le RAVE (Reseau des Arts Vivants Electriques -a contemporary music network)' is located in the same building. The proximity between the two associations creates regular
collaborations.
Here, artists, sculptors, choreographers, painters, dancers, musicians and managers frequently meet.
The team of '2angles' also develops projects with local partners such as schools, hospitals, prisons,
associations or other cultural centres.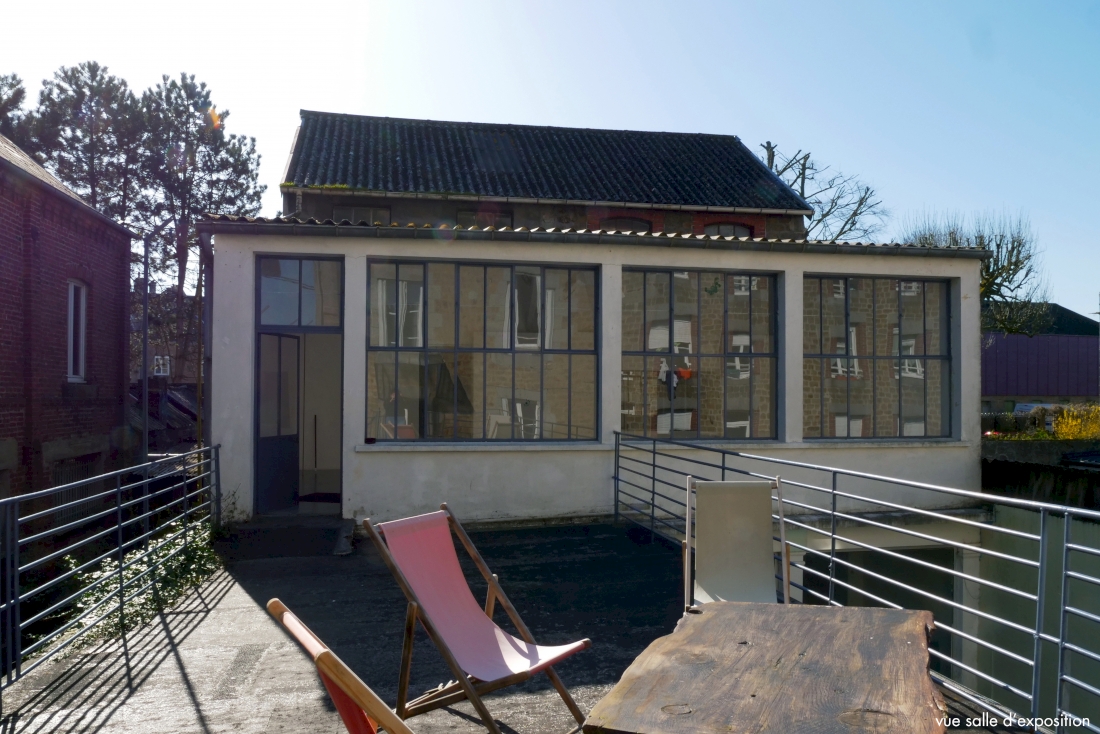 AVAILABLE MEANS
For visual artists:
Creation residency and solo exhibition:
A 40 day residency with studio and workshop space in 2angles. A 40 day solo exhibition at the end of the residency.
Residency grant : 2000€
2000€ for production costs and/or transportation of works.
1000 € for showing rights.
+ 60€ per hour of mediation (8h maximum)
Construction and Installation Residency:
A 10 day residency ending with a 40 day solo exhibition.
500€ residency grant +1000€ for presentation rights + 60€ per hour of mediation (up to a maximum of 8hours).
If the artist in residence, in agreement with 2angles, organises a shared show with other artists, the 1000€ attributed for presentation rights is to be the shared between the artists. Likewise for the 60euros per hour for mediation.
Artists Collective Residency:
60 days of artists' attendance. A maximum of 6 artists may be present simultaneously on site. A grant of 10000€ will be payed to the collective's legal entity. The collective may attribute this grant according to its needs and its project. However,'2angles' will monitor this attribution in order to ensure that the legal requirements concerning artist's fees are respected. If the collective organises an exhibition, the 1000€ of showing rights will be equally divided and individually allocated between the participating artists of the collective.
N.B The sums mentioned are given for information, but can be modified depending on the projects
selected and their partnerships or sponsors who may be willing to co-produce certain actions or
productions.
For dance companies:
A flat-rate grant of 6000 euros is allocated to the company.
Support :
Administrative and technical support available depending on the projects.Accommodation : shared flat, at 20mins walking distance from '2angles'. Meals included. A demand for travelling expenses may be made for a maximum of 300€ .
Flers is part of an agglomeration of 55000 inhabitants and offers many services and shops. The proximity of the rail service ( Paris-Granville line) means that a vehicle is not absolutely necessary, although a bonus for greater mobility..
Facilities
Workshop and studio space, exhibition spaces, a shared kitchen, library and offices are available. Small electronic tools, computers and wifi provided.
A studio and a fully equipped rehearsal stage (7mx5m) are provided and the presence of a
stage-manager can be arranged. The technical data sheet and floor-plan are available for downloading on our website (go to the rubric pratique , and then téléchargement) A workshop on the premises can also be accessed.
DURATION
Visual art residencies: Several formats of varying lengths exist.
Creation Residency: 30 days in residence + 40 days exhibition
Construction and Installation residency: 10 days in residence + 40 days exhibition
Mission Residency: To be adapted, according to the project, outwith the premises of '2angles'
Residency for an Artists Collective: Variable depending on the project
Contemporary dance residency: for a duration of 10 working days minimum and 20 working days
selection process
A call for applications for visual arts and dance residencies is announced every two years. A process of selection then follows.The selection jury for visual arts and contemporary dance is composed of
our partners and professionals from both artistic domains.
In terms of content, a special importance is granted to artistic process, research, and innovation. There are no imposed themes or media. However, the time spent in Flers should be conceived of as an immersion in this unique environment, and the opportunity for an encounter with a town and its
inhabitants.
When selecting dance companies, their affinities with the field of visual art will be considered. When two projects of equal interest are in competition, the project which best takes the regional dimension into consideration will be priviliged.
obligations of the residents
The project proposal must be compatible with the available resources and the requirements made by '2angles'. Each visual arts residency results in an exhibition. Each dance residency results in a public showing of the work-in-progress.
During the residencies, the artists and dance companies are expected to participate in meetings,
conferences and other encounters with our public. These solicitations will take into account the artists' availability. These events will be organised to the satisfaction of both parties, in order not to interfere with the advancement of the artistic project.
Should the mediation projects planned exceed 8 hours of audience presence, a complementary contract will be redacted, in agreement with the artists and dance companies, in order to take into account the required supplement of work.